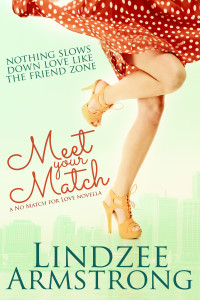 Title: Meet Your Match (No Match for Love)
Author: Lindzee Armstrong
Publisher: Snowflake Press
Genre: Romance
I received a copy of this book in exchange for an honest review.
This is the prequel to Miss Match, the first book in the No Match for Love series. Brooke and Luke, who you meet in Miss Match are the focus of Meet Your Match. The prequel goes back to their high school days when the two meet and become friends.
Brooke's the new girl at school and she has trouble fitting in, yet she quickly becomes friends with her the quirky Zoey (whose also in Meet Your Match). Brooke catches the eye of Luke, who upon meeting her shows an interest in her, but Brooke shrugs him off because she thinks he's a jock whose after every girl in school. As time progresses, Brooke starts spending time with Luke and opening up about her parents' divorce and her dad's new girlfriend. Luke is there to comfort Brooke and even though his feelings for her are romantic, he doesn't want to do anything to mess up their friendship.
I thought this was a cute story to show fans of the series what Brooke and Luke were like in high school and how their friendship developed. In the story, you can see that their personalities are much like it is in Miss Match. I loved how the author included a scene with Luke and his father to show the bond they shared and why Luke had a tough time in Miss Match. I also liked how she explored the problems Brooke had with her family, especially with her father.
Overall, Meet Your Match was a great story with a better glimpse into Brooke and Luke's history. Reading the book will make you fall in love with them again.
Rating: 4 stars
Purchase links: